Commissioners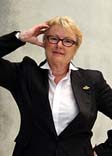 Graeme Reeves (Chief Gambling Commissioner) is a barrister and solicitor in Wellington and was a National MP for Miramar from 1990 to 1993.





Lisa Hansen is a Wellington barrister.





Russell Bell is a chartered accountant and business consultant from Whanganui with a background in corporate risk management and assurance.




Donna Matahaere-Atariki is a consultant and lives in Dunedin.





Wendie Harvey is a professional director and business consultant based in Hawke's Bay.